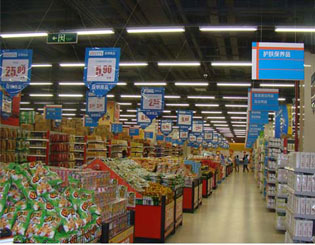 Put visitors in a buying mood. Increase sales, reduce energy.
Sinpco provide a range of products and solutions, which meet supermarket /shopping mall requirements both in relation to energy consumption and light quality and levels.
Create an inviting environment that attracts shoppers and encourages impulse buying. Optimize supermarket / shopping mall with superior, energy-efficient LED lighting. Maximize profits while lowering energy bills.
The advantage of our supermarket/shopping mall lighting solution:
1, Save up to 75% on lighting energy costs without comprimising light levels.
2, Provide up to 50000 hour lamp life, low maintenance solutions.
3, High quality light output
4, Reduced Environmental Impact
5, Flicker free light source for comfortable surroundings