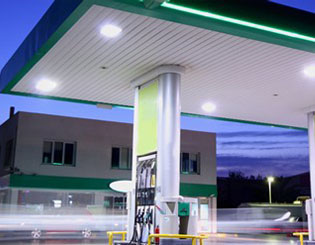 Your gas station could be operating with lower energy costs and better lighting. Let's make it happen.
Sinpco manufactures a range of high efficient LED high bay 30W~200W, Wherever your gas station needs illumination, we can provide it. Imagine reducing your lighting energy costs by up to 75%. Under canopy LED lighting upgrades can increase safety, comfort and visual experience, while achieving a simple payback in less than 3 years. The advantage of our gas station solution:
1, Save up to 75% on lighting energy costs without comprimising light levels.
2, Provide up to 50000 hour lamp life, low maintenance solutions.
3, High quality light output
4, Reduced Environmental Impact
5, Flicker free light source for comfortable surroundings